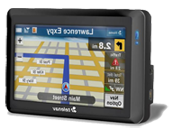 ! ALERT ! When navigating with your 4x4 in Costa Rica, it is almost essential to have a GPS given the poorly marked roads and signage here in Costa Rica.
At only $9/day, it can be a life-saver!
GPS navigators with touchscreen interface and automatic route calculation to any destination.
The database features nearly six million points of interest—including hotels, restaurants, gas stations, ATMs, police, hospitals, clinics, airports, national parks, beaches, and tourist attractions.
Includes many travel tools including JPEG picture viewer, world travel clock with time zones, currency converter, measurement converter, calculator and more.
You will love our 4x4s, our Cell Phones, GPS units, our Service, and especially our Low, all-inclusive rates! Welcome to Costa Rica!